Bahan Mentah
Material adalah salah satu faktor penentu dari kualitas produk yang dihasilkan. PT. Pancamas Elite menggunakan bahan baku yang memiliki standar internasional yaitu Zinc Alloy type 3 (imported from Australia, Korea,dan Belgia) dengan kontrol mutu yang ketat setiap material yang digunakan selalu dilengkapi dengan Certificate of Analysis (CoA) dari pemasok.
Raw material
Materials is one of the important factors in resulting product quality. PT. Pancamas Elite incorporates materials with international standard, which is Zinc Alloy type 3 (imported from Australia, Korea, and Belgium) with strict quality control, every materials incorporated in the production process is certified with Certificate of Analysis (CoA) from the supplier.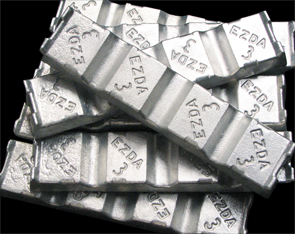 Zinc Alloy 3
•No.3 Alloy is usually the first choice when considering zinc for die casting and is the most widely used zinc alloy in North America. It's excellent balance of desirable Physical and mechanical properties. Superb cast ability and long term dimensional stability are the reasons why most die casting are made from this alloy. No.3 Alloy also offers excellent finishing characteristics for plating, painting and chromate treatments.
Stainless Steel J4
Jindal Stainless is the largest producer of chrome manganese Stainless Steel in the world. It supplies grades J201, J202, JSL AUS (J1), J204Cu and J4. All these grades have austenitic structure in annealed condition at ambient temperature similar to 18/8 (304) Stainless Steel with higher strength, excellent formability, weld ability and good corrosion resistance.
---